Overview of Contract Services offered by LaserGuide Inc.



Precision Tube Cutting and Fabrication

- Complex Shapes Are Cut With Simultaneous Linear And Rotary Motion (seen below)

- Tubing Can Be Cut From 20' Length of Stock, making the entire process much more cost effective.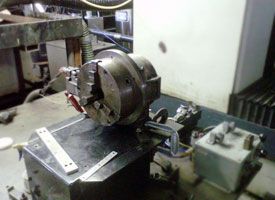 * This rotary tool can be used simultaneously with our 5-axis beam director to provide an extra dimension of cutting to our process. By using this we can precisely cut tubing up to 12" in diameter without even breaking a sweat (literally). This rotary table can also be used for a variety of other 3D parts that require more precise cutting angles and smaller more intricate parts.
Below are examples of the contrast between weld appearances in traditional TIG welding and laser welding in an application. On the left side (below) you will see two samples of identical parts welded by an experiences TIG welder. In the middle, a sample of both weld types (TIG & Laser). On the right side (below) is a sample from production run of laser welding. Note: that each weld type had equal strength and penetration, although the laser welding process was significantly cheaper, had much higher yields, and cosmetically laser welding is on a way different pedestal.



Main Benefits to using laser welding include but are not limited to:

Low heat input, leading to minimum part distortion
Very consistent, and repeatable welds
The deep penetration of precise narrow welds
A thin weld profile with a very clean appearance (especially if gas shielding is used)
No secondary processing needed in most weld types
Due to the precision of our 5 axis CNC Laser you will get high repeatability
Most importantly you will see faster weld rates than traditional welding

Precision Drilling/Micromachining

Most Common Applications

Aerospace, Medical devices, Electronics and Automotive

Technique

Using short pulsed lasers these applications are quicker and much more efficient than traditional processing methods. With our current "on the fly" methods and equipment, there are very little restrictions on the material type to be processed.

Knowledge

With over 75 years of cumulative experience with laser drilling/micro-drilling and laser micro-machining we are able to tackle even the most complex and difficult projects.

"We take pride in our reputation for laser drilling" of highly accurate and precise small holes and have "model" parameter setups that enables us to optimize the laser micro hole drilling process. Along with these custom micro drilling techniques we also have a few choices on the most appropriate laser for the job (the primary differences are spot size, power output, beam wavelength, and many other parameters for our CO2 and Nd:Yag lasers.

-
5 axis laser drilling
while simultaneously using rotary, helps with the accuracy of the small diameter holes by eliminating stack up tolerances as you go around this part. Laser drilling is a very cheap and efficient alternative to traditional drilling techniques because this non-contact process minimizes the wear and tear of tooling and decreases material distortion. Also, since you are using a CNC laser so you will get highly accurate and consistent results. Another benefit is that it is rather easy to change the location and width of the holes to be drilled making the ability to change over from different prototype programs relatively easy compared to other methods of drilling (change out bit size etc.).
Metal Spinning/Laser Cutting

Technical Metal Spinning/Laser Cutting Capabilities:
Metal Spinning from 1" to 96" in Diameter.
Material thickness
from .010" to .375" (depending on material type/print specs)
Material Types include the following:
Hot Roll Steel, Hot Roll Pickled and Oiled Steel, Cold Roll Steel, HSLA Steel, Galvanized Steel, Galvannealed Steel, Aluminized Steel, Brass, Bronze, Nickle alloys, Aerospace alloys,
Aluminum (1000, 3000, 5000 series),
Stainless Steel (300, 400 series)

Our Short and Long Run Contract Packages include:
-Fast turn around time (usually 1-2 weeks maximum)
-Quality audit worksheets filled out and delivered with every shipment.
-Full Inspection Capabilities: gauge blocks, calipers, optical comparators, pin gauges, diameter (PI) tape, three machined granite surfaces etc..
-Full deburring, grinding, polishing, cleaning, surface treating.
-Small to medium sized tumbling capabilities. With a large variety of rock sizes for the most effective and low cost method of part cleaning for maximum uniformity)
-Full packaging/shipping supplies (to increase the quality of final product.)



Short
and
long
run laser contract production capabilities.
Secondary Laser Processing Services include:
Localized heat treating
Laser engraving many materials including organics

.
Inspection Capabilities, Quality assurance documentation with each shipment (per request)
Full deburring, Tumbling, Grinding, Polishing, and Packaging Capabilities
Part nestling (maximize material usage)
Nitrogen Clean Cutting (leaves part Oxide free and ready to weld)
Our laser programming software as well as our CNC laser interface makes numbering, marking and logosketching rather simple and economical. Our systems are capable of laser etching (surface marking) variety of different depths (depending on the purpose and application of the surface being marked. Individually labeling parts by its p/n or material lot number can make keeping track of certain materials possible and convenient to all parties involved. Our programming database has programmable letters, fonts, symbols, pictures, and various languages.
Prototype Development, Engineering, and Production (including Custom Fabrications)

Cutting Capacity: Three lasUp to ± .001" depending on the tooling/application. However, our 5-axis lasers themselves are precise and repeating up to +-.0005". er systems with up to 72" x 84" x 48" of active work envelopes each.
Auto focus control (AFC): maintains constant laser beam focus on cutting/welding surfaces even with parts inconsistent with expected geometry.
Auto feed rate/power control (maintains constant energy input to material, minimizing heat affected zone, reducing thermal distortion)
Maximum Material thickness:

up to 0.30" Carbon Steel
up to 0.25" Stainless Steel
up to 0.18" Aluminum hkg
up to 0.20" Titanium, and various alloys
Organic materials (such as plastics, carbon fiber, etc.) thickness varies.


* If there are any further questions about our laser processing capabilities or consulting services you can fill out our secure express email form found here or you can call us by telephone at (952) 873-4143 to talk to someone with LaserGuide Inc, who can further assist you.